Introduction - Garden Gallery
The Garden Gallery section of the web site is designed to access landscape photos grouped into multiple categories, such as Front yards and Backyards, as well as numerous other categories.
After selecting Garden Gallery you are presented with a screen of the first six gallery categories. At this point you may explore any of these categories by selecting one of the images, or select the More tab at the top to view the next set of six categories. Note that the Back tab replaces the More tab and moves it to the right when there is another page to view. Slide your cursor to the right to continue viewing all available categories.
When you select a category the Back and Previous tabs come into play. Each of these will move the More button a space to the right so be sure to move your cursor accordingly each time to be able to view all of the pages. The Back tab is designed to return you to either the previous page you were on or the screen of six images that you were viewing when you selected a category. The Previous tab will also take you back one page.
As before, to select an image, all you need to do is click on it. Clicking on any one of these garden images, brings up a photo of that garden with super imposed white rectangles, called "Hot Links".
Clicking on any of the "Hot Links" takes you to a Plant Information screen.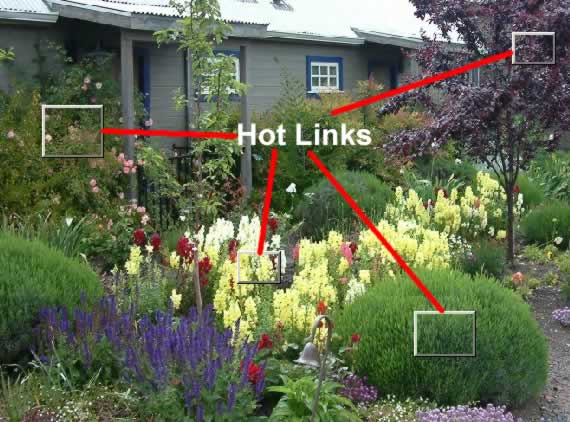 The Plant Information screen provides additional photographs of the plant, a description as well as Culture, Anatomy, and Design information about the plant.